Veterinary Services in Eagan, MN
COVID- 19 Appointment Protocol Update- Clients inside the building effective immediately
Please remain patient as the new protocol is subject to change and it is not guaranteed that you will be allowed to accompany your pet into the building. COVID factors may change our protocol on a day-to-day basis.
Thank you all for your patience and support over this last year. We are excited to restart in-person exams while keeping your families and ours as safe as possible.
Thank you for your continued patience with our construction. We understand the mess and noise can be inconvenient, but the expansion of our building is allowing us to schedule more of our patients for exams and surgery.
To maintain the safest environment possible for our clients and staff, we have instituted the following guidelines.
One client is allowed inside our building for scheduled Doctor appointments. We will still require a face covering over the nose and mouth for any person in the building, regardless of vaccination status. Our staff will also be wearing a face covering over our nose and mouth.
Please still call when you arrive (651-452-8160). We will get you checked-in over the phone. Once our Doctor and room are ready, we will come to your car to bring you and your pet directly into your disinfected room. Please remain in your room until you are escorted out of the building.
To help maintain social distancing, our Technicians will hold your pet for the doctor's exam. Please do your best to maintain social distancing during your pet's exam.
If you are showing symptoms of COVID-19, we will complete a curbside exam, regardless of vaccination status.
We will continue providing curbside exams for those with children, multiple people, or for those that prefer curbside appointments.
Drop off appointments, surgery drop offs, and Technician appointments will remain curbside.
Food and medication pickup will remain curbside.
Sample drop off will remain curbside.
Welcome to Pilot Knob Animal Hospital!
Pilot Knob Animal Hospital is your neighborhood animal hospital that has been providing our patients and their families with quality, compassionate service since 1987.  Our goal is to provide you with the education you need to develop your pet's health care plan.
Our staff is passionate about keeping your pet healthy so he/she can be around for many years to come. We are a full-service small animal veterinary clinic.  We see animals from all life-stages.  If you have a new addition to the family, an adult pet needing wellness care, or an elderly pet with medical concerns, we can help.
We emphasize regular wellness examinations to prevent and diagnose early disease when it is most treatable.  We evaluate your pet's exposure to infections, parasite control plan, diet and weight history, and dental health to develop a customized health care plan for your pet.
Our surgical suite is equipped to perform numerous types of soft tissue surgery and our Certified Veterinary Technicians are trained to monitor your pet's anesthesia.  We perform dental cleanings and periodontal treatments to help keep your pet's mouth and body healthy.
If your pet becomes sick, we have a full array of diagnostics such as IDEXX in-house blood work machines, radiographs, and reference laboratory diagnostics to help us determine the cause of your pet's illness.  We provide hospitalization for sick pets that require IV fluids, medications, or procedures.
We are open six days a week.  We recommend scheduling appointments to avoid a wait.
Appointments are available after 8:00am Mon-Sat.  Daytime emergencies will be accommodated between appointments.
If your pet requires care outside of normal business hours, please call Animal Emergency Care in Apple Valley at 952-953-3737 or the University of Minnesota in St. Paul at 612-625-9711. Thank you for entrusting us with your pet's health.
To learn more about our hospital please browse our website, visit our Facebook page, or call us at 651-452-8160.  We welcome your comments, suggestions, and feedback about our services. Please continue on to meet the smiling faces of our friendly staff!

Contact Us
4145 Knob Drive
Eagan, MN 55122
Telephone:
(651) 452-8160
Fax:
(651) 452-0010
Hours
Mon-Fri 7am-6pm
Sat 8am-Noon
*See our Facebook Page for Holiday Hours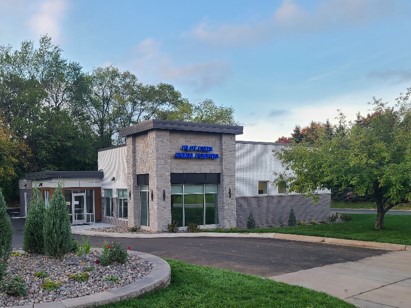 4145 Knob Dr, Eagan, MN 55122
Contact us at (651) 452-8160
Save to desktop first)
Fax: 651-452-0010
HOURS
Mon-Fri 7am-6pm
Sat 8am-Noon