Payment and Appointment Policies
View our COVID appointment policies here.
APPOINTMENT POLICY
Here at Pilot Knob Animal Hospital, we see a variety of appointments from well-pet to emergency situations. When scheduling your pet's wellness appointment, please let us know the questions and concerns you have for the doctor. This will allow us to schedule an appropriate amount of time for your visit. We also see urgent and emergency appointments for sick or critical cases, which may cause some delay in the schedule. We appreciate your understanding as our goal is to stay on time for your appointment.
To fit into our 9-to-5 client's schedule, we offer drop-off appointments for urgent or emergency cases. Please allow time to speak with a Technician so they can gather pertinent information to better evaluate your pet's condition. Our Certified Veterinary Technicians work with the Doctor to examine your pet and address your concerns. We will call you with our findings and discuss further diagnostics such as blood work or x-rays. There is a small hospitalization fee, but don't worry, cuddles are free!
Call us at 651-452-8160 or download our app to schedule an appointment!
PAYMENT POLICY
Please note that we require full payment at the time of your appointment or surgery. For any pet left at our facility, we require payment for the low end of the estimate provided to you at the time of drop-off. We accept a variety of payments for your convenience – all major credit cards (Visa, MasterCard, Discover, American Express), debit cards, and cash. We no longer accept checks. We accept CareCredit ® payment. Please visit www.carecredit.com for more information.
CANCELLATION POLICY
There has been an increase in demand from the community for veterinary care. Our goal is to provide quality individualized medical care in a timely manner. No-shows, late arrivals, and late cancellations inconvenience clients and their pets who need veterinary care. We are having to implement a "No-Show" and Late Cancellation Policy due to these overwhelming occurrences.
Cancellation of an appointment: To be respectful of the medical needs of other pets, please call our office (651-452-8160) if you are unable to show up for any appointment. This time will be reallocated to a pet who needs treatment.
If it is necessary to cancel your scheduled appointment, we require that you call at least by close (6pm) the night before your scheduled appointment. Appointments are in high demand, and your early cancellation will allow another patient to receive timely veterinary care.
If you don't reach a receptionist, you may leave a detailed message on our voice mail. You may also email us at [email protected] or text us at 651-273-9543.
Appointment "No Show" Policy: A "no-show" is a client who misses an appointment without cancelling it. A failure to be present at the time of a scheduled appointment will be recorded in the client's chart as a "no-show".
After two "no-shows," we will require a deposit of the exam fee to schedule the next doctor appointment. If the appointment is a technician appointment, we will require a deposit of the technician fee. The deposit will be deducted from the total at your appointment. If you request a change to the appointment time after 6pm the night before the scheduled time, the deposit will be forfeited.
Late Appointment Policy: Clients arriving 10 minutes or more after your scheduled appointment time may need to reschedule. The receptionist will see if we are still able to see your pet that day. If we are not, we will ask you to reschedule your appointment. Be mindful that our appointments are scheduled right after one another and because of this the doctor may not have time to give your pet the full exam and care it needs before the next appointment arrives.
ANIMAL POLICY
For your pet's safety, please keep all pets in an appropriate carrier or on a leash. While your pet may be happy around other animals and people, we often see animals that are nervous being out of their regular environment. We strive to make everyone (furry or not) comfortable during their visit at Pilot Knob Animal Hospital.
Dogs: If your pet has special needs around other animals or people, please inform the Receptionist when checking-in or when scheduling your appointment. We can have your pet wait outside if the weather is nice, stay in an exam room with treats, or keep our clinic cats from being a tempting chase toy. We play classical music in the rooms and offer a variety of tasty treats to keep your dog happy and calm during the appointment.
Cats: We find that cats stay calmer at the clinic when kept away from other pets and noises. Options include waiting in an exam room, hanging out in our new "Kitty Corner" off the ground and away from pets, or even in a quiet area of the hospital. We use Feliway™, a calming feline pheromone, and towels to make a safe cave for your pet. And don't forget all the yummy treats we offer our feline friends during their appointment!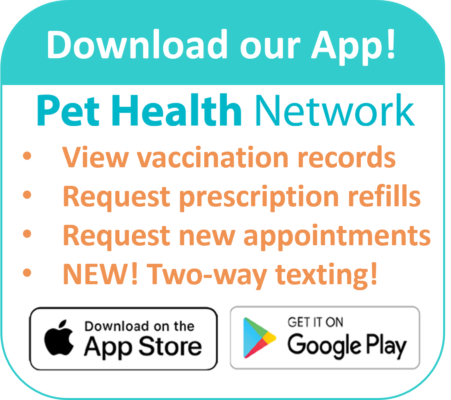 Contact Us
4145 Knob Drive
Eagan, MN 55122
Telephone:
(651) 452-8160
Fax:
(651) 452-0010
Hours
Mon-Fri 7am-6pm
Closed Weekends
*See our Facebook Page for Holiday Hours