Hide-and-Seek
Tell your dog to "stay," hide yourself in another room and call them to come find you. A great game to play and a way to reinforce basic commands!
Or, you can tell your dog to "stay" and hide smelly treats around the room. Make it easy by letting your dog watch you at first. As they get better and faster, hide treats in another room and let your dog hunt for them!
DIY Sniff Exercises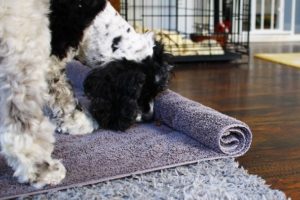 Lay a clean body towel on the floor. Sprinkle treats or kibble over the towel. Either carefully fold the towel multiple times or roll the towel up. Give it to your dog to sniff out the treats. This is great mental exercise for delicate and senior dogs!
Semi-fill a tissue box with empty toilet paper rolls. Sprinkle treats into the rolls and let your dog shuffle though the tubes to get treats out!
Clean out a sturdy bottle such as a Gatorade bottle. Carefully cut holes in the bottle just big enough to fit your dog's kibble though. Put kibble in the bottle and secure the lid. Give to your dog to roll around to release the treats.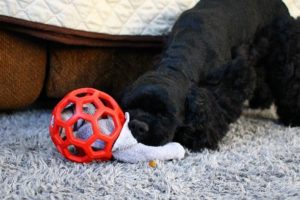 Purchase a "Ho-lee Roller" from your pet store or Amazon. Wrap treats in clean wash cloths. Push wash cloths into the Ho-lee Roller. Your dog will get the satisfaction from "de-stuffing" a toy without the destruction!
Have a Dog that loves to Shred Toys?
Empty cardboard boxes are great to keep your pup entertained! Give pop can cases, cereal boxes, cracker boxes, etc. Always monitor that your pet is not ingesting the cardboard. Be prepared for clean-up time!
Make Bath Time Fun!
Smear peanut butter or EZ cheese on the wall of the tub to keep your dog happy and distracted during a bath! This also works great if your dog needs medicated soaks!
Teach your Dog Something New!
AKC offers multiple training goals you can work towards with your dog! Teach the 10 components needed to earn its Canine Good Citizen award or teach some of the various tricks offered for the AKC Trick Dog Titles. More information can be found at akc.org
*All activities should be supervised while in use.