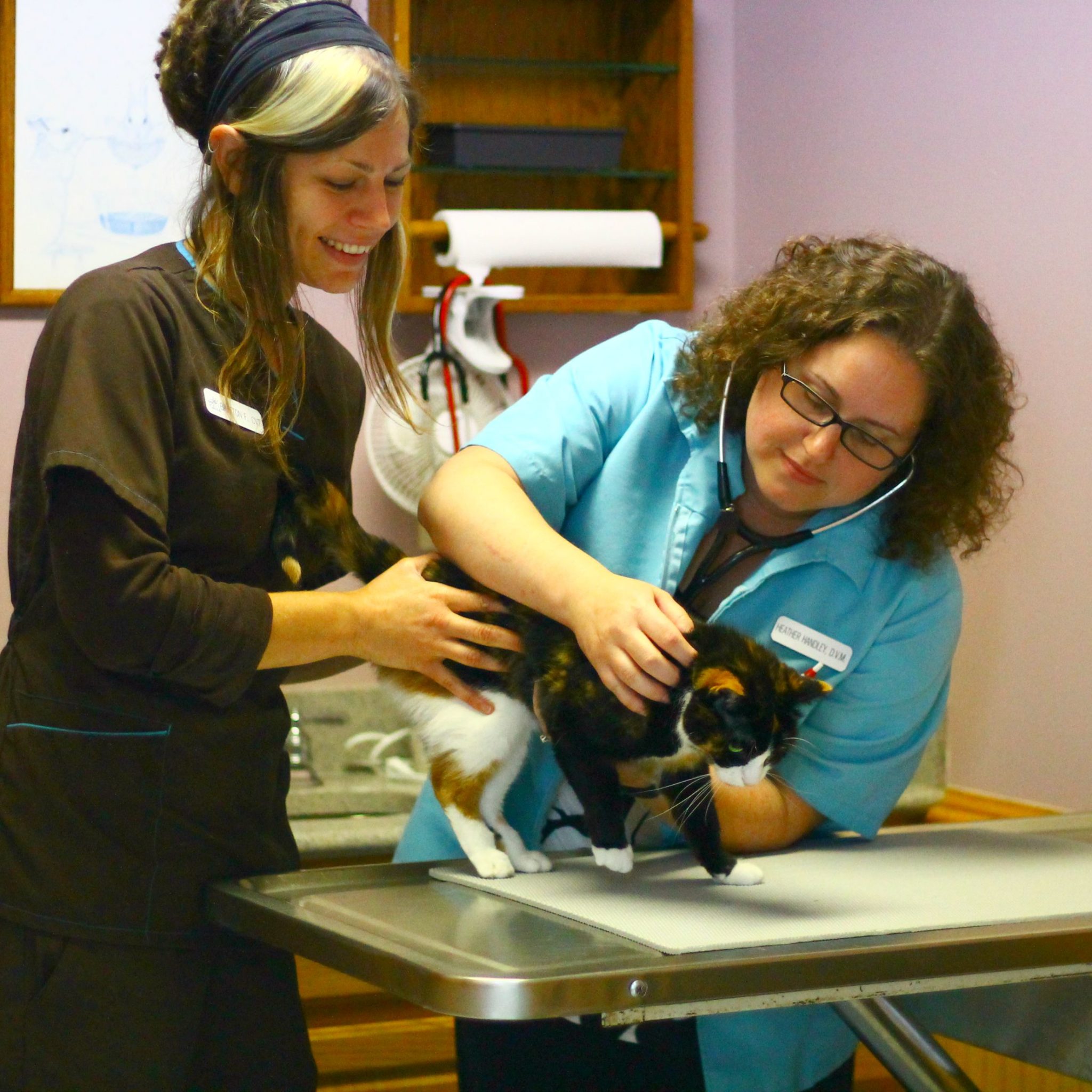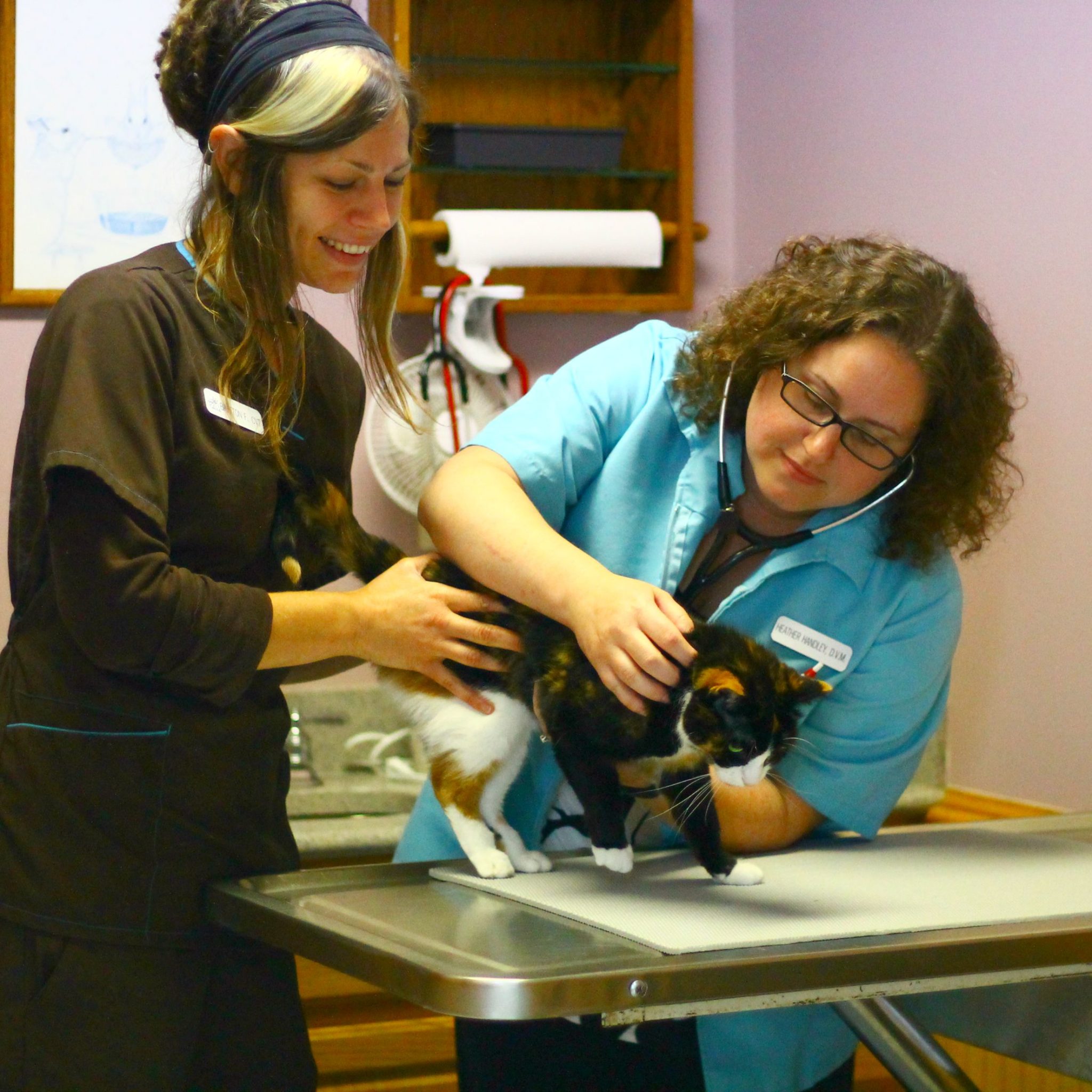 Small Exam Room:
Our small exam room caters to our feline friends and small dogs. We have small animal specialty scales to accurately weigh smaller pets. Our exam table has a non-slip, cushioned surface to help your pet feel comfortable during their examination.
We strive to provide pets with visits that are as calm and stress free as possible. Our feline exam room is equipped with a Feliway diffuser, which disperses a calming pheromone to help relieve stress in cats. We play classical music in the exam room and have a fleece-covered heating pad on the exam table to provide more comfort for cats. To keep stress low, we do try our best to get cats in exam rooms as soon as they arrive; however, if a room is not available, we do have a "kitty corner" in our lobby, which is an area to set cat carriers up and away from other pets. Feliway is kept here as well and can be spritzed on a towel placed near the cat to help keep them calm while they wait.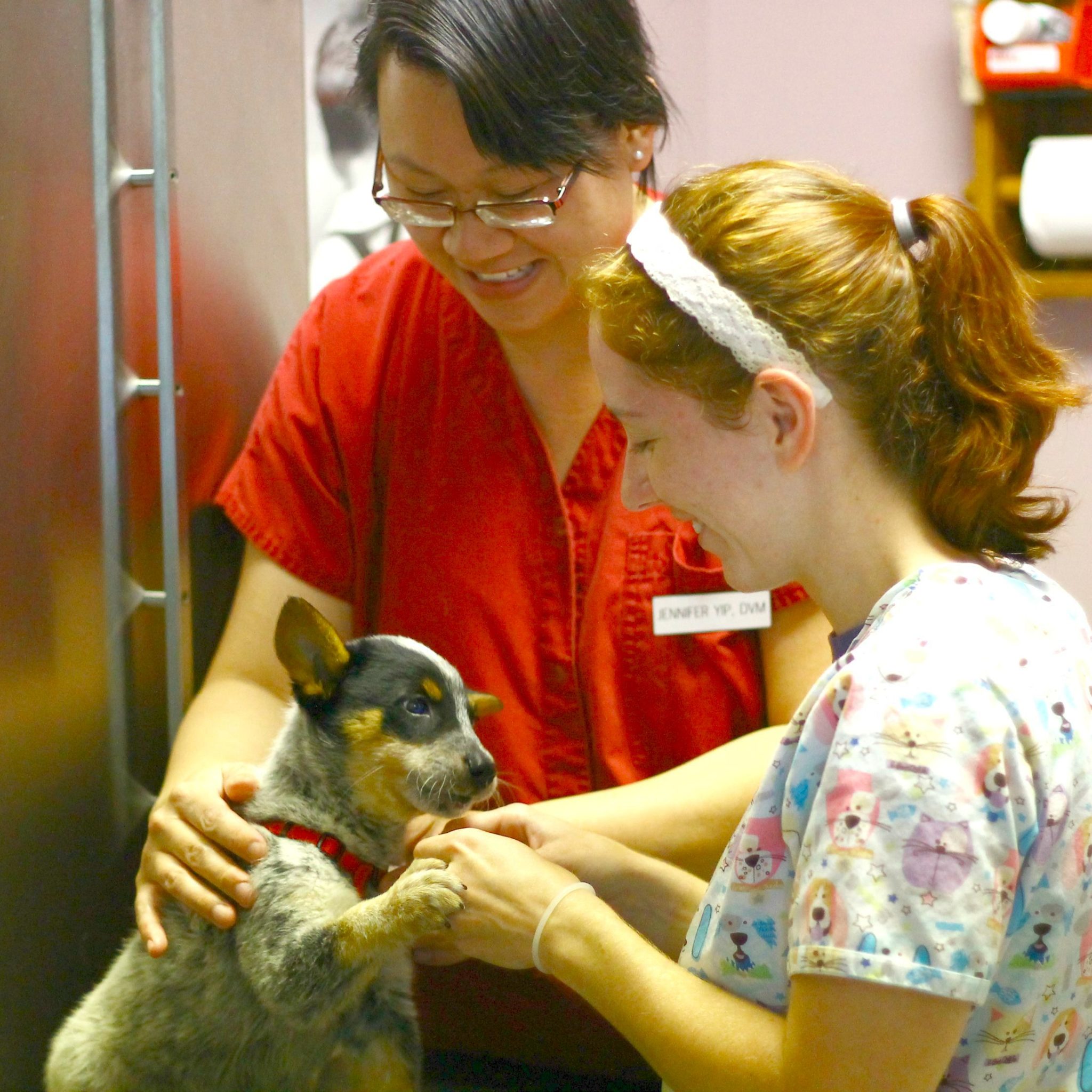 Large Exam Room:
Our large exam room caters to our larger patients and contains a large rising table with a non-slip surface. This allows us ample access to fully examine your pet, while maintaining your pet's confidence during his exam.
We strive to provide pets with visits that are as calm and stress free as possible. Our canine exam room is equipped with an Adaptil diffuser, which disperses a calming pheromone to help relieve stress in dogs. We play classical music in the exam room and place a yoga mat on the floor to help dogs who may need more mobility support. We offer treats to help keep the exam as a positive experience; for some dogs, it is helpful to bring them on an empty stomach so that they are hungry enough to accept treats. If your dog gets nervous around strange dogs/people in the lobby, you can always call us from the parking lot to make sure we have an exam room open to bring you into right away.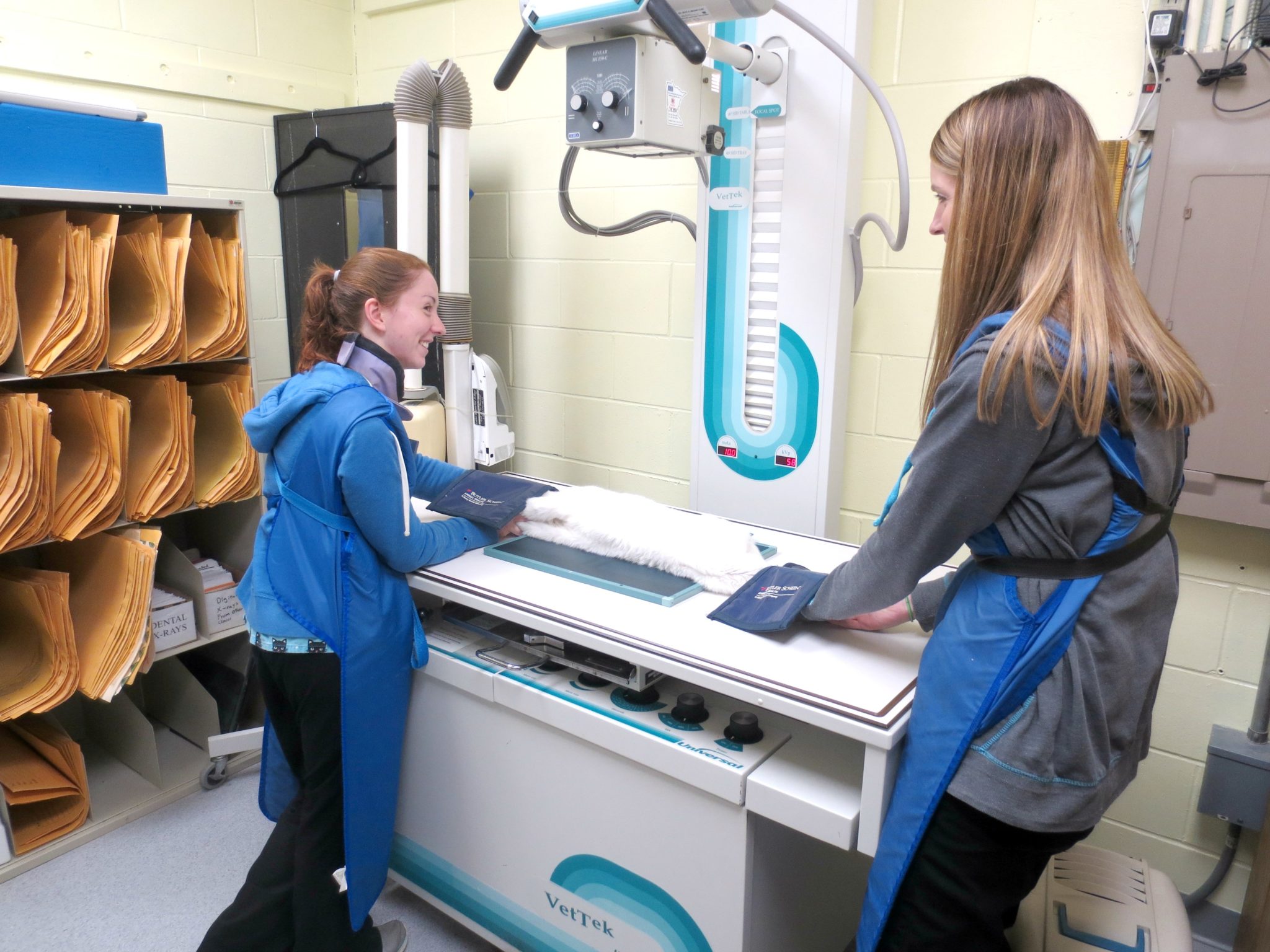 Digital Radiology:
Our certified technicians utilize our digital radiology system to obtain high-quality radiographs in a timely manner for a faster diagnosis of a sick pet. Our radiographs enable our doctors to analyze the chest, abdomen, and skeletal systems for abnormalities.
Surgery:
Our surgery suite is equipped with modern Isoflourane gas anesthesia, one of the safest inhalant anesthetics available. We require a pre-surgical consult to assess for any abnormalities that may change your pet's anesthesia or surgery plan. One of our trained Certified Veterinary Technicians (CVT) monitors your pet through the procedure and post-op care. Our technicians monitor your pet's heart and lungs by utilizing stethoscopes and our Doppler blood pressure machine. All pets are placed on warming pads to maintain body temperature. A specialized pain plan will be arranged to ensure your pet's comfort. We offer pre-anesthetic blood screening to assess your pet's organ function prior to administering anesthetic drugs. This bloodwork is required for patients 7 years of age or older, but is recommended for all. We also recommend placing an IV catheter and administering fluids throughout the procedure. This allows quick access to your pet's vein in the case of an emergency, helps maintain blood pressure throughout the procedure, and aids in a faster recovery. The doctor may require IV fluids for certain procedures or geriatric patients.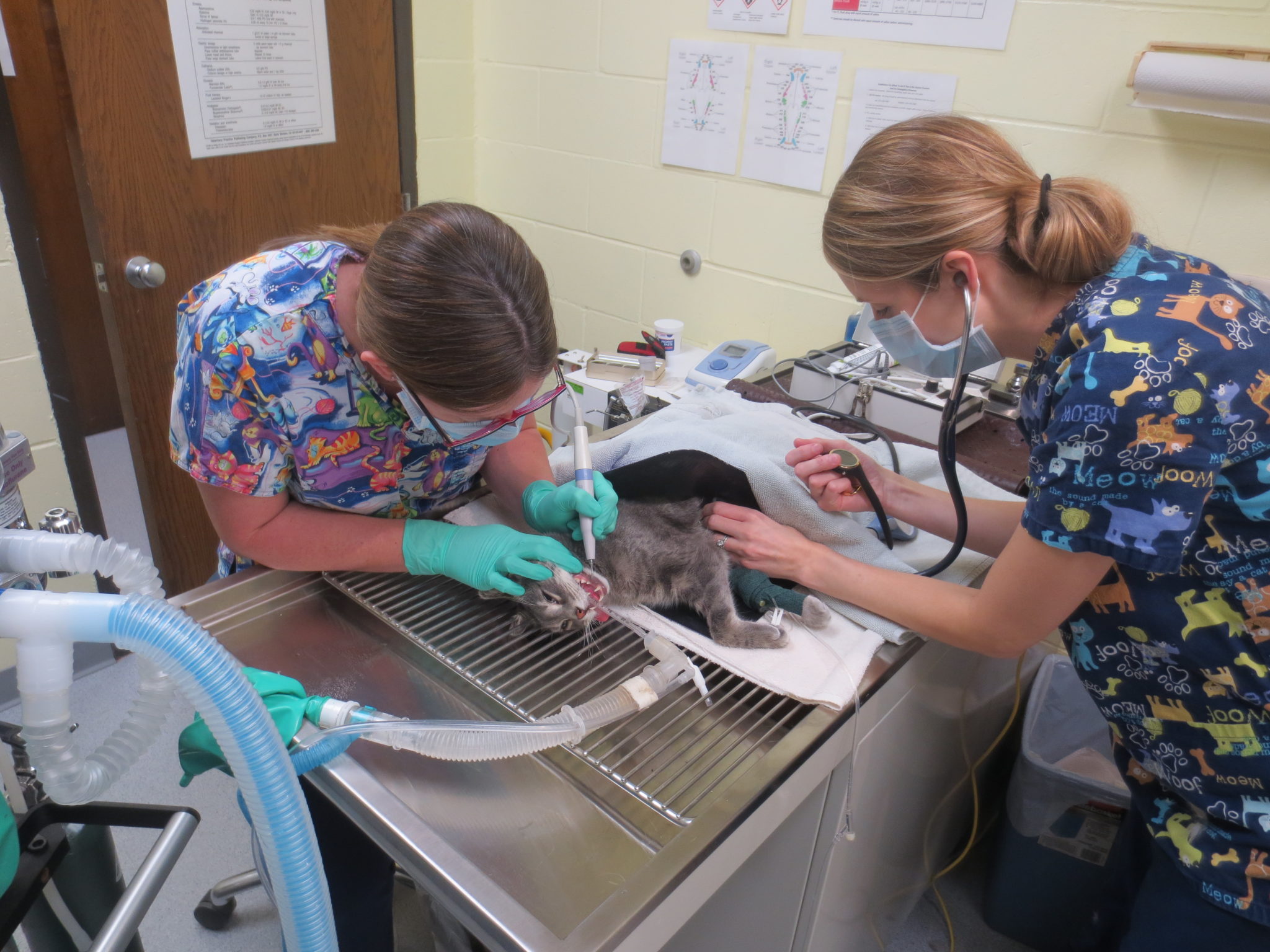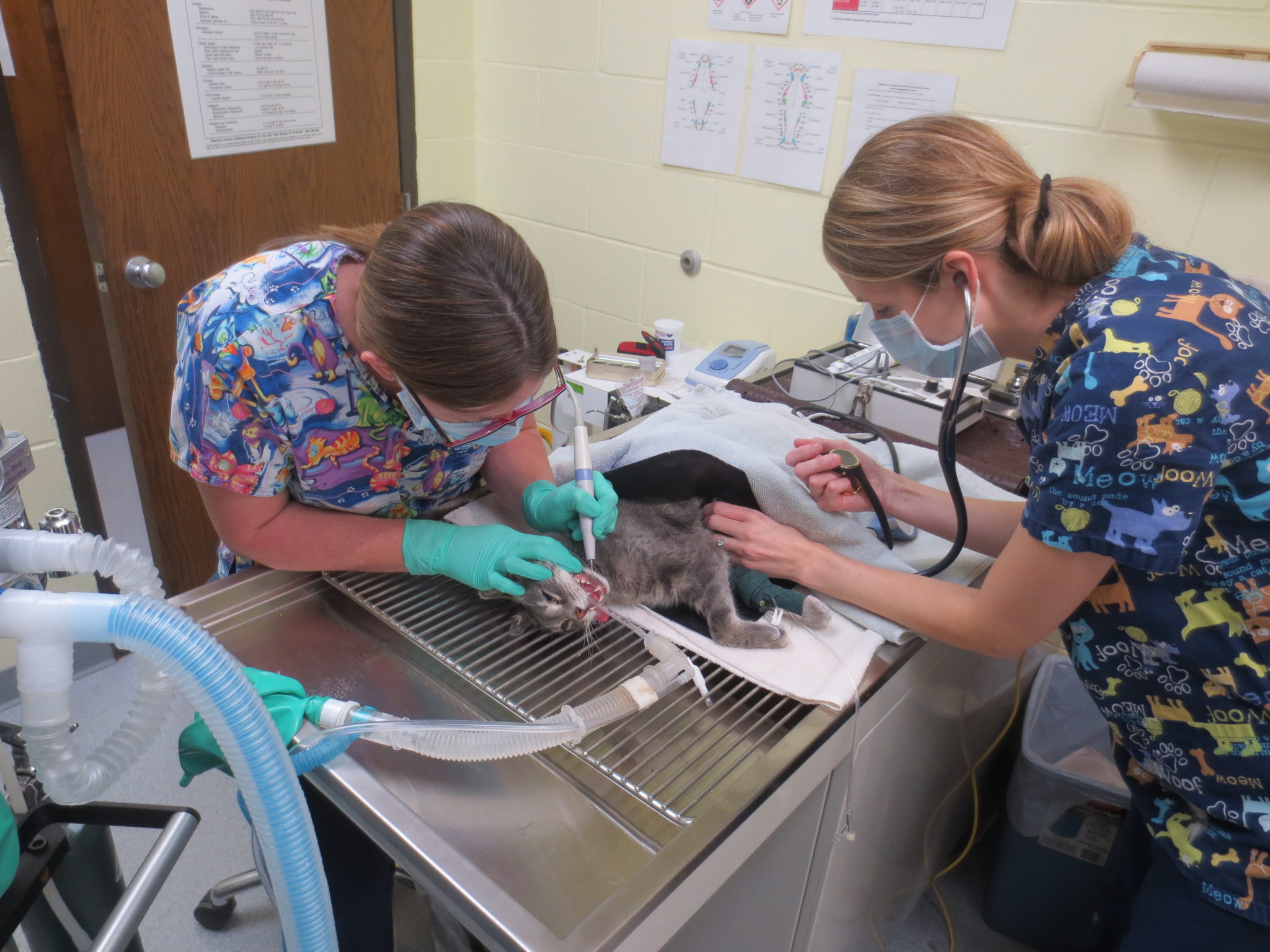 Treatment Room:
Our dental cleanings take place in our treatment area. Treatment of dental disease includes a thorough dental prophylaxis under anesthesia. During this cleaning, a Certified Technician will scale the teeth, both above and below the gumline (where bacteria hide), polish the teeth, and probe the gumline for any abnormalities. The doctor will complete a thorough oral exam and address any concerns. Finally, if you choose to, our technicians will apply a concentrated sealant to the teeth. This sealant is a waxy substance that allows tartar to form on the wax and slough off weekly. It needs to be applied to the gumline at home once weekly to remain effective.
We also offer dental radiographs to evaluate the health of tooth roots and check for potentially painful problems hidden under your pet's gums.  About two-thirds of each tooth in cats and dogs is below the gums where we cannot see it, so dental radiographs are very imporrtant to make sure your pet gets a thorough and complete dental procedure.  You can also get dental radiographs taken when your pet gets spayed or neutered to check for any impacted teeth.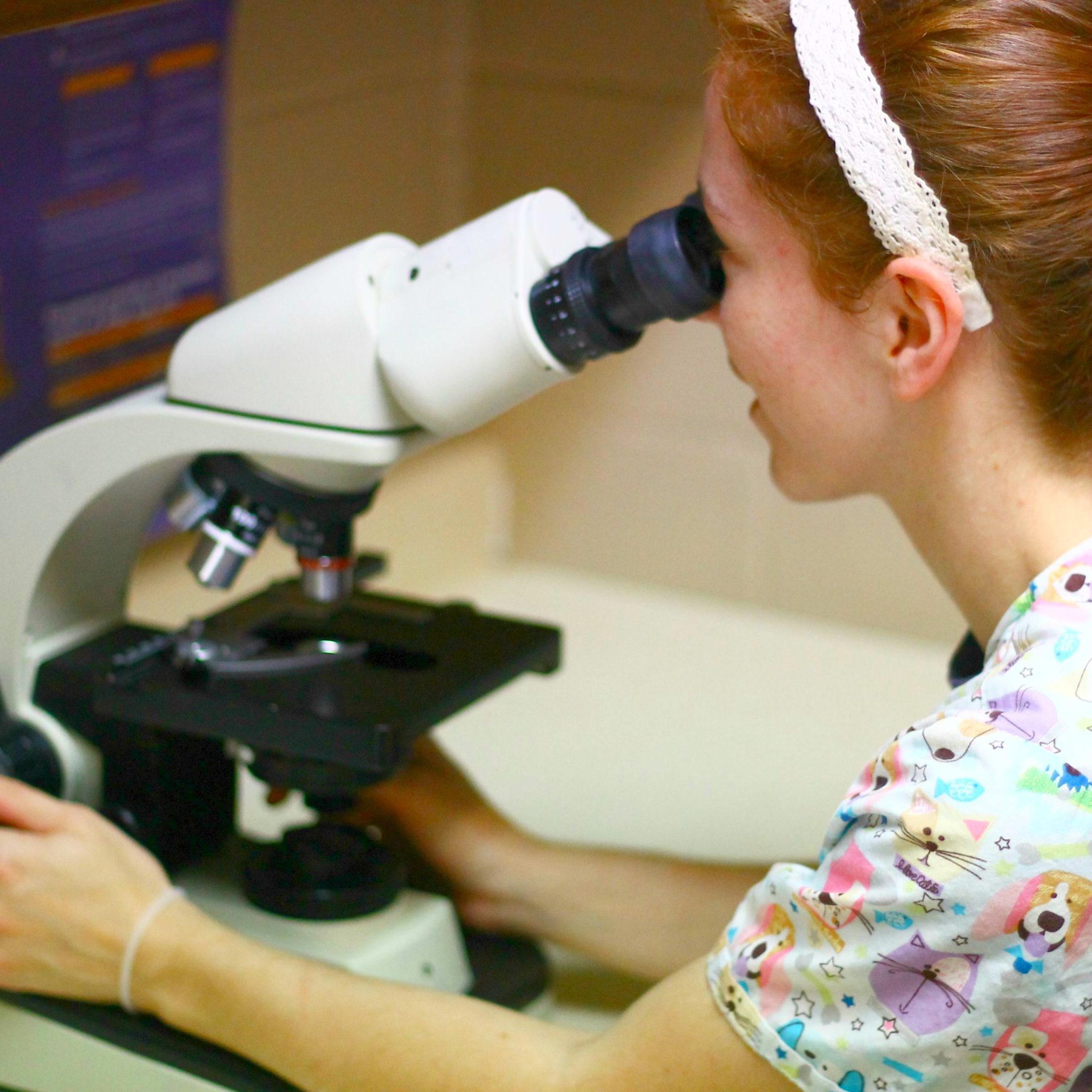 Laboratory:
We have a full-line of in-house diagnostics to rapidly determine the cause of sick pets. Our blood chemistry analyzer quickly screens kidney and liver values, blood sugar, electrolytes, and protein levels. We are able to check your pet's complete blood cell count to assess for anemia, infection, and platelet disorders. Our technicians can perform a full urinalysis to look for signs of infection, urinary stones, or to screen for kidney or liver disease and diabetes. We also routinely microscopically view ear swabs to check for infections, skin scrapings to check for mites, and cells from masses to check for cancer.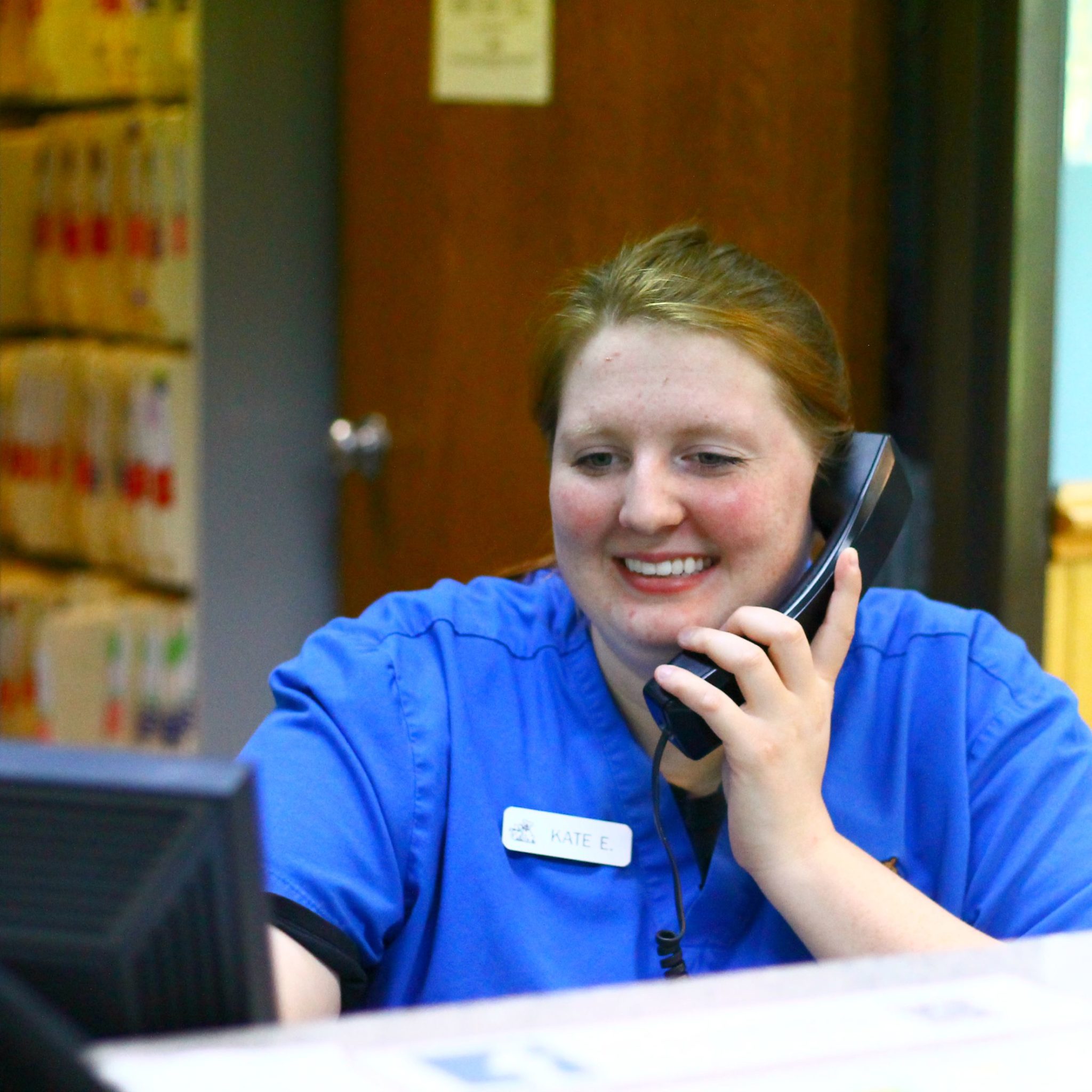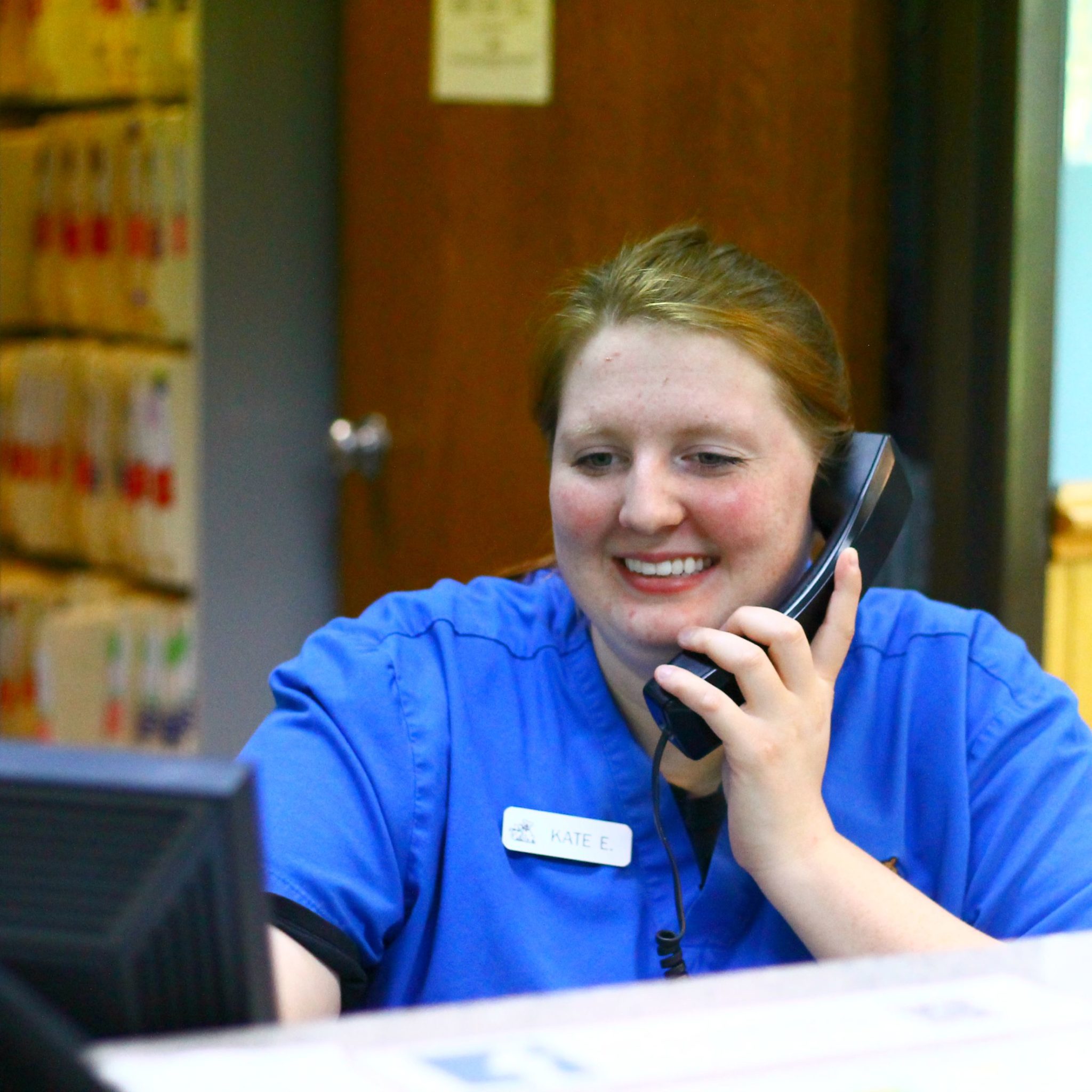 Lobby:
With rooms on opposite sides of the lobby, we make every effort to keep our feline and canine patients separated to allow a comfortable space for our patients. Feline patients will find comfort with our Feliway pheromone diffuser and our "Kitty Corner," an area for your cat carrier up and away from other pets . If your dog prefers waiting outside, our techinicans can come get you when your room is ready. Please let our receptionist know if your dog or cat is uncomfortable in any way. We strive to make every visit a positive experience for our patients!
Contact Us
4145 Knob Drive
Eagan, MN 55122 
Telephone: 
(651) 452-8160
Fax: 
(651) 452-0010
Hours
Mon-Fri 7am-6pm
Sat 8am-Noon