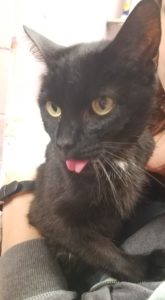 Binx is an ordinary little girl with an extraordinary story. This sweetheart was found as a stray in Eagan last September. From the get-go we knew something was different about her—she always stuck her tongue out!
Once she was released from the city to us, we performed a dental cleaning under anesthesia. She had some bad teeth we removed, and we took a radiograph of her jaw. This showed that, at some point in her past, she had broken her jaw! We couldn't believe it! She was always very sweet and snuggly. She LOVED her face scratched and always gobbled up her food.
Despite how bright and happy she was, we determined for her long-term comfort she would likely need surgery. We began the search to find a rescue or person prepared to take on this financial and emotional journey with her. She would need surgery performed by a Veterinary Dentist at a specialty clinic.  During this search she was spayed, vaccinated, and dewormed. She was also diagnosed with ringworm! Unfortunately, this can be contagious to people and other pets, so she had to be quarantined during treatment. Her spirit never faltered. She was always excited to see us and didn't mind the gloves we had to wear while giving her some much-desired ear scratches.
Treatment for ringworm is relatively simple but can take months to determine its effectiveness. During this time an amazing client of ours reached out to us. They were looking to add another pet to their family—but not just any pet—a pet that might have trouble finding a home quickly.  A pet needing someone special to give it the chance it deserves at a normal life. We had just the kitty for them.
They didn't waste any time! The day her ringworm test finally came back negative they picked her up. She's now adjusting to her new home and her new family (including a dog friend!). They are working with specialists for her jaw and she's loving the freedom and fun she now has in her new life.