A Day in the Life of a Surgery Patient:
Dental Cleaning under Anesthesia
Before Anesthesia: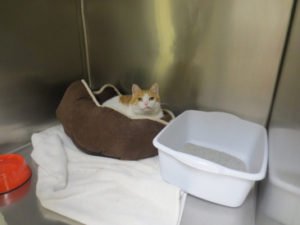 Between procedures your pet will relax in a private kennel, complete with a clean bed, fresh water, a clean litterbox (for cats), and a privacy towel sprayed with calming pheromones. We play calming classical music in our treatment and surgery rooms.
If elected, we will draw your pet's blood and run that in-house to check organ function prior to beginning anesthesia.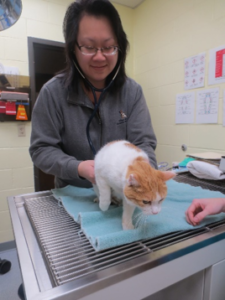 Before your pet receives any drugs for anesthesia, vitals are taken by a Certified Veterinary Technician (CVT) Vitals include temperature, pulse, and respiration. The doctor will perform a pre-surgical exam. She will check for normal-sized lymph nodes, listen to your pet's heart and lungs, and palpate its abdomen.
Starting Anesthesia: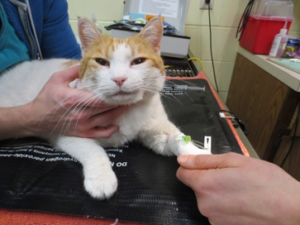 After the exam the CVTs will place an IV catheter. This allows the doctor to have immediate access to your pet's vein. Quick access to a vein is crucial in the event of an emergency. The catheter will also connect to an IV fluid line. IV fluids help maintain your pet's blood pressure during the procedure and help flush out the anesthetics after the procedure.
Next your pet will receive a sedative prescribed by the doctor. This is given as an injection into the muscle (the same as when you get a vaccine). Within 20-30 minutes your pet will begin to feel relaxed and sedate.
A CVT will then give the IV anesthetic injection. This will put your pet in a peaceful slumber.
Once your pet is asleep, the CVT will place an ET tube in your pet's trachea. This tube delivers oxygen and inhalant anesthetic to maintain your pet's anesthesia during the procedure. The tube fits your pet's trachea to keep water and debris from the cleaning out of its trachea.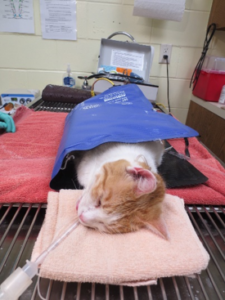 Your pet will be wrapped in a warming mat to maintain its temperature.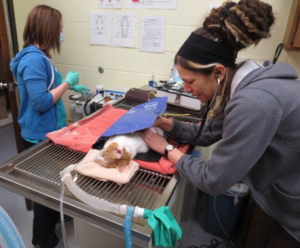 During the cleaning there will always be one CVT dedicated solely to monitoring your pet. She will continuously monitor and record your pet's heartrate, breathing, temperature, blood pressure, and more.
The Dental Cleaning: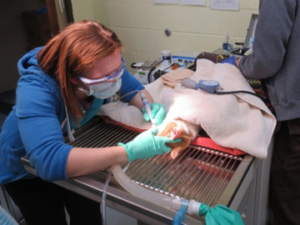 Another CVT will scale the teeth to remove all tartar. Next the doctor will perform a thorough dental exam. She will probe along the gumline on each tooth to check for abnormally large pockets and other areas of disease.
Next the CVT will polish the enamel. Scaling creates microscopic scratches in the teeth that can increase the formulation of tartar. Polishing these scratches out keeps those teeth clean (and healthy) longer!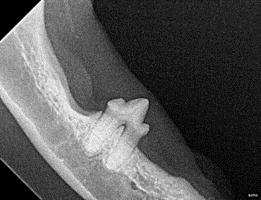 We recommend checking dental x-rays for any abnormalities under the gumline. For a comprehensive view, we offer full-mouth digital radiographs. If declined, we may still need to take a few single views of teeth we are concerned about. Dental x-rays will allow us to determine if we are able to save the tooth with continued dental care at home, or if the tooth is too diseased and will need to be extracted.
Extractions: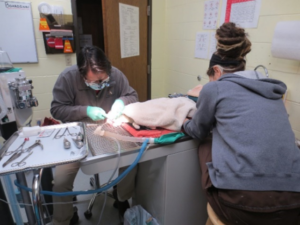 If a tooth is determined to need extracting, the doctor will proceed with the surgery. Your pet may receive an injection to numb the area prior to any extraction. We will also give an antibiotic injection and an injection for pain that lasts for 24 hours. We will send your pet home with a pain medication for the days following the procedure.
Sutures will dissolve on their own and will not need to be removed.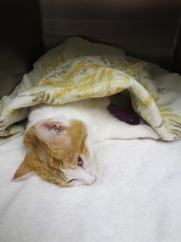 Once all extractions are completed, the CVT will turn off the gas anesthetic. Your pet will remain on oxygen for a few minutes to help flush out the anesthetic. She will then transfer your pet to a recovery kennel. This kennel will have warm blankets and a heating pad to keep your pet at a healthy temperature and cozy during recovery. Pets generally wake up slowly and take a few hours to become steady on their feet. That's why we have you pick up in the afternoon or evening.
At pick-up your CVT will go over all after-care instructions and answer any questions you may have. She'll give you a before and after photo of the cleaning and a goodie bag with various dental products you can use at home to maintain your pet's pearly white smile!
Before: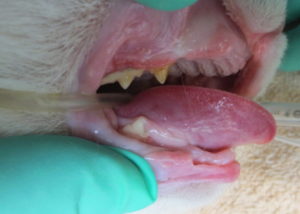 After: