Teach your Dog to Love the Vet!
Visits to the Vet office can be stressful for many of our dogs.  Dogs can pick up on stress hormones in another dog's urine, so just sniffing the yard outside our office can tell your dog "Warning! Danger ahead!"  It can also be scary being handled by strangers in unfamiliar ways and especially if your dog is feeling poorly or in pain. There are many ways you can help your dog be comfortable at the Vet.  Performing these exercises at home can help your dog become familiar with the types of handling done during the physical exam.  This practice also benefits you in the future!  By working with your dog now, you can create a dog that is relaxed when you brush its teeth, clean its ears, or give medications.
Practice handling your dog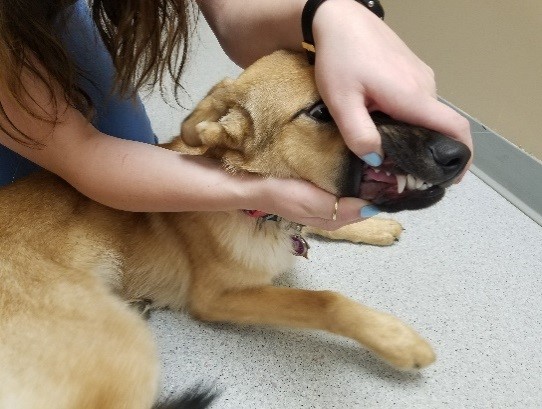 Gently look in the ears, lift the lips and examine the teeth, handle the feet, and lift the tail.  The goal is to keep your dog happy while every part of its body is being touched.  Make sure to take breaks and give lots of yummy treats.  If your dog is hesitant or acting scared, take a step back.  Do not rush the process and over time they will look forward to this one-on-one time with you!
Practice restraint techniques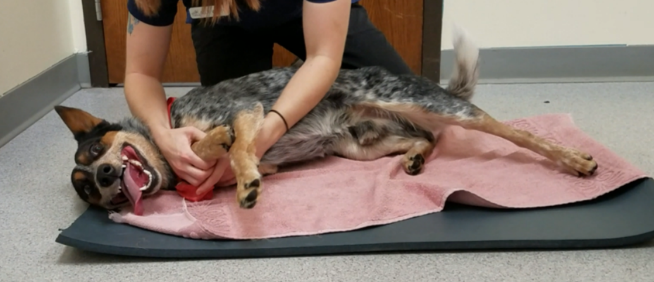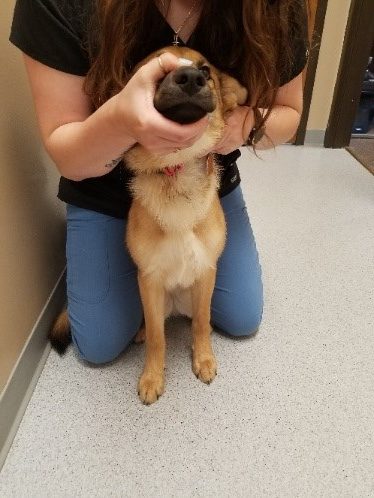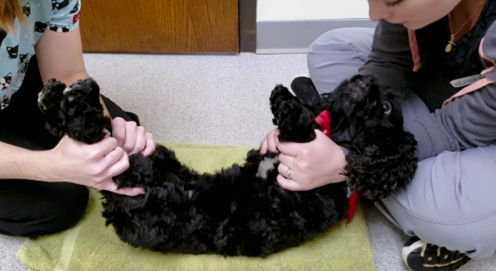 Restraint is a necessary component of your dog's exam and diagnostics.  Getting your dog used to being handled for the physical exam is a good place to start.  While you practice handling your dog, start with brief touches and work up to longer holds.  Praise your dog when it stays still.
View our instructional You-Tube video to learn common restraint techniques used for drawing blood, nail trims, and taking radiographs.  Practice these positions so that your dog can stay still while you hold its head or that your dog is able to lay on its side or back calmly.
Practice common procedures during the Vet visit
Vaccines are a common occurrence during a wellness visit. Your dog's vaccines are given under the skin in the shoulder and hip area.  To give a vaccine, we gently pinch and pull up a portion of your dog's skin to create a "tent" in the skin.  Practice making tents in multiple spots on your dog's skin.  Once your dog is comfortable, you can gently poke the base of the tent with your finger.  You can even practice with a syringe (no needle).  Use treats to help your dog become less fearful.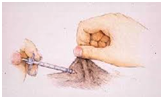 Weighing your dog can be harder than you think. The scale is frightening for some dogs.  Use a tasty treat to guide your dog up on to the scale.  You may need to start by tossing treats onto the scale if your dog will not get on it.  If your dog is still nervous, we can pull the scale away from the wall and cover it with a blanket.  Do not force your dog onto the scale.  Feel free to stop in at any time to weigh your dog and allow it to work up the confidence.  Some pet stores also have scales available for pets to use.
We strive to keep your dog comfortable at our clinic.   We use different therapies to help calm your dog and keep them distracted from our procedures.
Bandanas – these can be tied around your dog's neck or placed nearby. Bandanas are spritzed with Adaptil®, which uses the pheromone that nursing mothers release to calm their puppies.
Music – enjoy the classical tunes from "Through a Dog's Ear" which is soothing to stressed animals.
Toys – if your dog enjoys playing or chewing on balls, this activity can help keep your pet distracted and avoid getting scared.
Treats – we have a variety of treats to help during procedures. If your pet has any food allergies or intolerances, please let us know.
Other Tips and Tricks
Bring your dog on an empty stomach. A hungry dog may be more eager for our treat rewards.
Does your dog have a favorite treat or toy? Bring it with to their visit!
Call us upon your arrival. If your dog is nervous around other pets or people, we can meet you at the back door and avoid a busy lobby.
Stop in often to visit! Good experiences at the Vet can leave a lasting impression.  Bring your dog in often for pets, treats, and fun!  Fun, quick sessions in our clinic can help build their relationship with us.