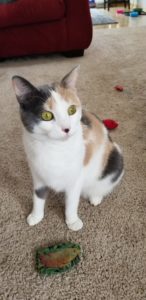 Congratulations to our June winner—Zola B!
"Zola is a muted Calico with a black spot on her nose. She was rescued from Feline Rescue in St. Paul 2 years ago. Zola loves to play with mice toys and jumping for them when thrown. She loves watching birds from her window. She is very talkative and won't let her mom forget when it's time to be fed. She can be a bit of a mischief maker. She loves to jump out and scare you when you least expect it. She loves to play fight with her brother, Dio."
Congratulations Zola for being our Star Patient winner. She is now entered into our annual drawing for $50!