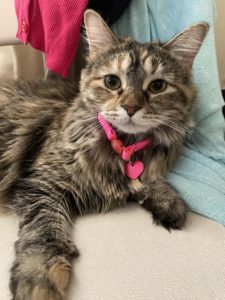 Congratulations to our December Star Patient Winner—Kora C!
"Hello! My name is Kora and I am a fur ball full of sass. I was adopted from the animal humane society back in July 2019. My birthday is on May 23, and I am only 1 year old. I am very independent, but I do love my chin rubs and butt pats. My best friend is a German shepherd name Luna. I follow her everywhere she goes! I sometimes try to get a few licks from her greenies bone when no one is looking. I enjoy eating lots of treats and especially wet food. My favorite toy is anything with a string included. The two things I hate it getting my nails cut and being brushed! I become very vocal when it comes to the things I don't like. Other then that I am usually quiet and calm, and like to nap with my family close by."
Congratulations Kora for being our star patient winner. She is now entered into our annual drawing for $50!