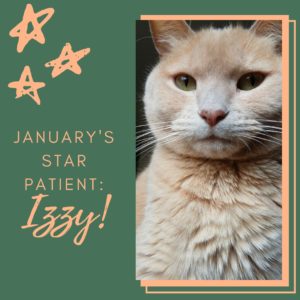 Congratulations to our Star Patient Winner, Izzy O!
"Izzy(Isabella,Iza,cat-cat)
Loves cuddles and to sleep under the blankets. She forces anyone who enters our home to be a cat person with constant purring and asking for affection from them. She loves to talk to the birds outside and play with toys, shes not a huge fan of her puppy sisters but occasionally plays with them. "
Congratulations Izzy for being our January Star Patient Winner! She is now entered into our annual drawing for a $50 credit on her account.