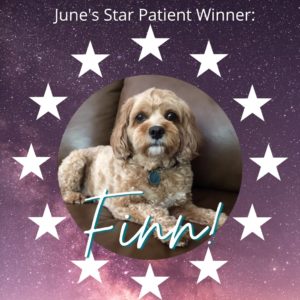 Congratulations to our June Star Patient, Finn B!
"Finn aka Finny, funny Finny, finicky Finn, fatty cakes or my little baby etc. is 3 years old, intelligent, loves people, walks, bully sticks, empty water bottles, his monkey arm, trips to the cabin and most of all just being with his humans and never being left behind ❤️"
Congratulations Finn for being our June Star Patient Winner! He is now entered into our annual drawing for a $50 credit on his account.