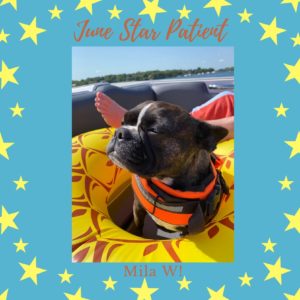 Congratulations to our June Star Patient Winner, Mila W!
"Mila is our French bulldog cross Boston Terrier. She is the sweetest dog and she just loves to be with her family. She has lots of energy and loves to play chase and will often drop a ball at your feet and has full expectation to play fetch! She also loves her sleep and throughout different times of the day she finds "warm" or sunlight spots in the house to take a rest. Mila loves riding on our boat with us and she enjoys a treat of a Pup cup every now and then!"
Congratulations Mila for being our Star Patient Winner! She is now entered into our annual drawing for a $50 credit on her account.