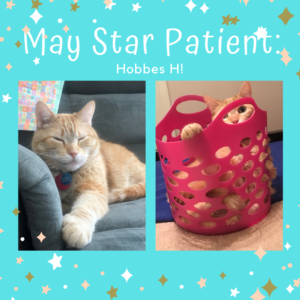 Congratulations to our May Star Patient Winner—Hobbes H!
"Hobbes is a people cat, he likes being with humans over other pets, but tolerates our other dog and cat by letting them know he's boss.
He loves eating more than anything. He loves exploring and going where he's not supposed to, playing, fuzzy blankets, and people cuddles.
All who meet him (even non-cat lovers) say he has quite the personality."
Congratulations Hobbes for being our star patient winner. He is now entered into our annual drawing for $50!