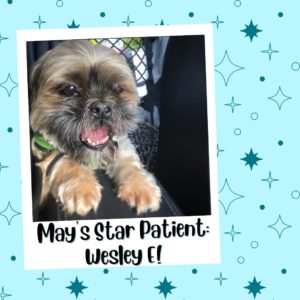 Congratulations to our May Star Patient, Wesley E!
"We rescued Wesley through the north star Shih Tzu rescue, when he was five years old, he was scared and not potty trained didn't know how to do stairs I didn't know how to play, however in the Five years that we have had him he is a trusting lovable relaxed dog who loves to roll around in the grass and go downstairs when it's nice and hot and cool off he is a bed hog he loves his car rides, walks, his favorite thing on walks is to smell and love from one stepping points to another you can never go on a walk without him smelling every single tree. He is a great brother to his latest foster Jordy. Wesley is very thankful for you guys for keeping his health up"
Congratulations Wesley for being our May Star Patient Winner! He is now entered into our annual drawing for a $50 credit on his account.