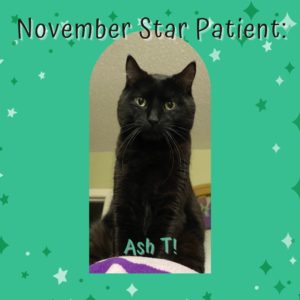 Congratulations to our November Star Patient, Ash T!
"Ash is just over six and a half years old, and lives up to his namesake's nickname of Strange One! He has many nicknames of his own because he has so much personality! He loves to sit in his window bunk and watch the squirrels in the tree, or roll in a sunbeam while taking a bath. His favorite toys are lasers (of course!), foam blocks that were his human brother's, anything stringy, or made by a trick of the light. He's an "under" cat that loves to burrow, and dad's hoodie is his favorite cover. He takes his meds like a good boy (yay for salmon pill pockets) and learned his chip feeder like champ. He's definitely one of the best boys and we love him and all his spooky glory. Black cats are good luck!"
Congratulations again, Ash! He will be entered into our yearly drawing for a $50 credit on his account!