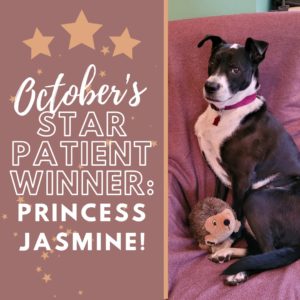 Congratulations to our October Star Patient Winner, Princess Jasmine S!
"Princess Jasmine is an 8 year old Australian Cattle Dog/Pitbull mix. Born in rescue (Midwest Animal Rescue) with 10 siblings. Her favorite things are: napping on the couch, being wherever her people are (as long as the cats aren't already there!), greeting visitors at the door with her best pal Hedgie #4, treats and more naps."
Congratulations Princess Jasmine for being our October Star Patient Winner! She is now entered into our annual drawing for a $50 credit on her account.